Remembering Craig Jurney
at the Oshman Family JCC
on January 11, 2020 at 4:00
November 15, 1963 – November 20, 2019
Good afternoon. I am Louise Page and I was one of the lucky people who worked alongside Erika and Craig for more than a dozen years at HighWire Press. We bonded quickly and fiercely, first over our love of dogs and soon thereafter our journey into parenthood. There are few people I regard with as much respect and admiration as these two. The naked joy they have raising you three boys is so apparent to all of us. Craig never stopped talking about his family but he did it in a way that wasn't boastful about skills or accomplishments. He talked about how you made him feel, how you made him laugh. What always came across is not how much he loved you — which he did — but how much he liked you all. How he would choose this life over and over and over again.
I learned a lot from Craig about parenting. I remember when he told me that you were all doing your own laundry, I think Henry was only 12 years old. I was amazed and he shrugged saying, "it's never too early". That was his mantra. Never too early to teach them responsibility, to take them to their first museum, to stop for a refreshing drink. Never too early.
Craig and I were the yin and yang of building and extending the HighWire business for many years. We spent countless hours in enviable locations like the Washington DC Marriott Metro Center lobby furiously working on slides, demos, and talking points and trying to convince the janitorial staff to serve us French fries at 2 in the morning (me) or open another bottle of wine (him). Craig was a dazzling work partner, his enthusiasm was infectious, his ideas were brilliant, and his ability to change course as needed was dizzying. His was a big personality, one that won't be forgotten soon by his friends at Stanford and HighWire — many of whom are here today — or the extensive global network of publishers and professional societies he worked with through the years. I have yet to find another yin to my yang and don't think I ever will.
In the last handful of years when I was at HighWire, we spent a LOT of time on the road together, largely in London. Craig was the perfect travel companion. No stress, all troubles rolled off his back, positivity and optimism oozing out of him as I wrung my hands, and the only concern I ever detected was whether he was going to make it to the [insert name] museum before it closed. His consummate curiosity and wanderlust was fed by Britain — its traditions, its history, its literature — and of course its pubs.
When the St. Pancras station reopened in London, we discovered the Booking Office together and quickly it became our favorite way to close the day. Every trip to London ended there to imbibe, relax, and generally bask in that glorious space with the Eurostar rumbling nearby and the brick glowing red in the streaming natural light.

The Booking Office is famous for its punches and when we first discovered it, we wasted no time in tasting them all. But now it's a drink to be shared with a dozen friends and somehow I knew when I walked in I would find Craig at the long expansive bar, his hat at his elbow, sipping a flight of punches that he had wheedled out of the bartender. After Craig passed, the Booking Office was kind enough to share the recipe for one of Craig's favorite punches, and I've brought enough (I hope) for everyone to have a taste during the reception as we collectively remember Craig and toast our fortune in having been in his orbit.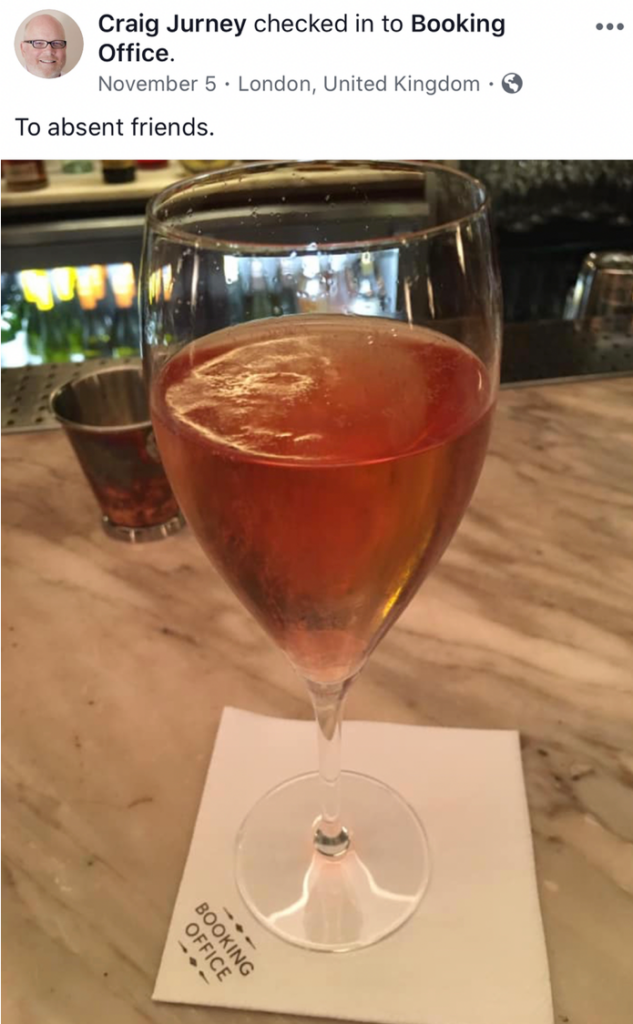 This was one of Craig's last posts on Facebook in November. I wish we had had more time, that there was one more nugget of wisdom, one more adventure, one more cocktail. This is the one time when it really was "too early."
---
Billy Dawson's Punch Recipe
Makes 8 to 10 servings
| | |
| --- | --- |
| Amount | Ingredient |
| 100ml or 3.5oz | Arrak or Cachaca |
| 200ml or 6.8oz | Hennessey Fine de Cognac |
| 150ml or 5oz | Myers Dark Rum |
| 100ml or 3.5 oz | Wray and Nephews Overproof Rum |
| 0.5 pint or 8 oz | Harviestoun Old Engine Oil |
| 100ml or 3.5 oz | Lemon juice |
| 4 lemons | Peel |
| 200g or 7 oz | Demerara sugar |
| 500ml or 17 oz | Hot water |
| pinch | Nutmeg |
Notes:
I wasn't able to find Wray and Nephews Overproof Rum, so I added more Myers to meet the rum amounts.
Harviestoun Old Engine oil is a rich, chocolatey porter that is hard to find in the States. I substituted a Porter from Deschutes.
Instructions:
Premix the alcohol.
Boil the water.
Muddle the peel of lemons and sugar.
Add ½ the boiling water and stir to dissolve the sugar.
Add lemon juice and Premix. Stir.
Add the rest of the boiling water.
Serve warm or cold with a pinch of nutmeg.
---
---
Go: Fundraiser for the boys • Obituary • Memorial service • Contact Erika